Zentangle Inspired Tiles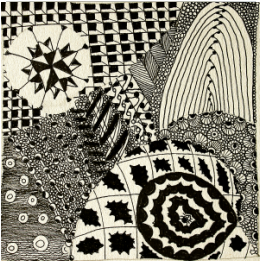 Inspired by
Zentangle
, these tiles are one of a kind designs that are hand-drawn with love. Each water resistant tile takes about two and a half hours to complete. Click on the images below to enlarge the image and get the piece number. To order your tile ,
email me
and reference the item number when ordering. Single tiles are $20 ,A set of 4 is $85 where stated..The cost difference has to do with which ones I have hand drawn and which ones I am having replicated. Shipping and handling within the US is $6.00.
Light switch plates and outlet plates are $12.00 each and take about an hour to an hour and a half to complete. You can ship me your plates and I can work on them and before we put the finish on them, you approve them. That way, if you don't like something, it can still be fixed.
Tiles can be used as wall art, coasters or refrigerator magnets (please specify what you want.) Please note that due to the cork backing on each, these coasters are not dishwasher safe. The one to the left is called "Falling Leaves:
You can also email me and ask me to surprise you. Or tell me which elements of the tiles you like and which ones you don't and have your own custom coasters drawn. You can tell me you like those bubbly like shapes but not the frond thingy in the one on the left and would rather have the rounded looking boxy things with circles in them like on number 33. We'll figure it out together.
I'll draw it, take a picture and send it to you. If you like it, you send me the money via check, MO, PayPal, debit or credit and I ship you the items. 100% satisfaction money back guarantee. You don't like them, you send them back, I refund your money, no questions asked as long as they come back in one piece. I'll be adding more pieces and some colored ones as well - just in time for the holidays - so check back often for new designs.
---