Featured SolCatchers - February
The other Jen's SolCatcher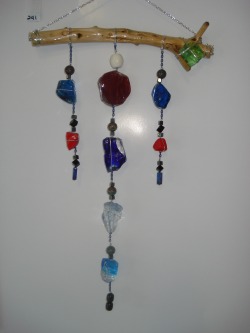 This month's featured SolCatcher is a custom piece I designed for the 'other' Jen, a dear friend who while not a blood sister, is a sister in another way. Like the one I did for my sister, this SolCatcher represents Jen and her family - in this case, her two boys. The individual pieces of glass are shown below.

The focal point of the piece is the red center piece and it represents Jen and her heart. Passionate and beautiful, strong and yet sometimes fragile, full of life and energy. The red piece pictured here was originally encased in a much larger chunk of clear glass. I was amazed and enthralled with that piece the moment I laid eyes on it. I waited for the glass to "whisper" to me, to let me know where it belonged. When Jen commissioned the SolCatcher, she actually told me that she liked blues and that was about all I had to go on. However, when I went to my glass, this piece didn't just whisper her name, it shouted to me...I AM JEN'S HEART.

The challenge, of course, was to extract that red colored portion from the larger encasing of glass. Holding the piece gently, I whispered back...please break for Jen. And then WHACKED it with my hammer. Much to my surprise and joy, what came out was a nearly perfect sphere of red glass. Only a few more small taps of my copper file were needed to smooth and round out the circular piece you see here. The white bead above it (white coral) represents a balancing force for her heart - a kind of purity and integrity which oversees the heart and keeps it's occasional unpredictablity in check.
---
The clear piece below the dark blue/clear piece represents Jen's Truth. That kind of truth that is both universal and personal at the same time. Along with the white coral at the top, this piece helps balance the two 'power' pieces between them, maintaining equilibrium between strong forces that can at times be in conflict.

The very bottom piece - the light turquiose and clear piece, is Jen's Energy. It flows from the bottom, as our energy flows from the earth, infusing the entire SolCatcher with life and motion. Like the color of the Carribean waters, it is motion.

The blue pieces on either side of the SolCatcher are her sons. The beads attached to them are imperial turquiose and are a mixture of red and blue. This represents the mixing of the two hearts - mother and son - and how while unique, are inextricably entwined. The red pieces below each of her 'sons' are their own hearts. Because they are young children, the shape of their hearts are still somewhat undefined, but each is taking on unique characteristics. As they grow and change, they will take on their own unique shape and form, but will also always be solid and fiery red, strong and passionate, just like their mother.

Finally, there is an emerald green piece in the corner of the crossbar. This is Jen's Healing. Jen has overcome a number of obstacles in her life, both physically and emotionally. She has stood tall when most would have fallen. She has acted when most would have been paralyzed with fear. She has been still when most would have been in a frenzy of action. She has kept walking this journey when many others would have just laid down on the path. And throughout it all, she has laughed. Her laugh is infectious (even though she calls it obnoxious) and it is hard to resist laughing with her...or on occasion, at her. <wink to Jen>

Not all of the SolCatchers that I make have this much symbolism to them - some I just think "Hey, that looks cool!" But many of them, particularly the custom pieces, are much more than some glass wired up with some pretty beads and bobbles and bling. They are creations from my heart that bring happiness to other people. And if you ask me, that's a little bit of magic.

If you have any questions or would like to order a custom SolCatcher (or even if you want to order an existing SolCatcher), please send me an email. .