Jennifer's SolCatcher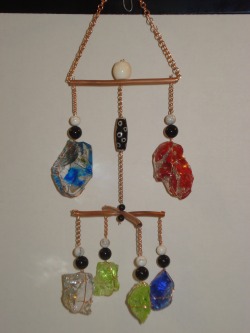 This is my sister Jennifer's SolCatcher that I created for her birthday. The colors represent the birthstones of her and her husband and 4 (!) kids. The older two are twins, hence the same color. The beads are white coral (top), white howlight and black onyx (above each piece of glass), an agate in the center and hematite just above the bottom part.

If you would like me to create a custom SolCatcher for you, please fill out the short form below and I'll get right on it!

In general, pricing is as follows:
$10 per piece of glass
$10-$15 for beads and materials, depending on quality and quantity
$10-$25 for labor, depending on complexity
$5-$15 for S&H (two-day priority mail within the US, outside of the US, prices and delivery time vary.)

There's an additional $5 charge if I draw blood. Ok, I'm kidding about that but I AM playing with broken glass. Please note that I do sand the pieces to eliminate sharp edges as much as possible but SolCatchers are made of glass so please, don't allow children or pets (or husbands) to use them as toys. At least I'm not running with scissors.

When ordering a custom piece, please be as specific as possible. If you're not sure what you want, tell me a little bit about yourself (including your date of birth) and let me create something for you. If you want, I will email you a photo of your completed SolCatcher before shipping to ensure that it meets with your approval.

Thanks!
---