About me...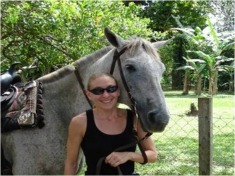 No one ever really reads these pages as you're here to look at SolCatchers, not learn about me. But they seem to be kind of mandatory so here goes...
It took me a long time to feel comfortable calling myself an artist. This is the second rendition of this page and on the first one I talked about how odd that title felt. Now a few years into it, I feel more comfortable with the title of "artist" as I have realized, through the comments of others, that that is what I am. And having found my creative side, I can embrace it as well. I used to say I didn't have a creative bone in my body and now I can't seem to stop creating. Interesting where life takes us don't you think? I now believe that EVERYONE has a creative side, it's just a matter of finding your medium. Whether it's glass and doodling like me or creative problem solving in accounting, everyone is creative in one fashion or another. What matters is that you find an outlet for that creativity. I've also come to believe that anyone can be artistic as well. The Zentangle (TM) inspired art that I do is really quite easy. If you can draw a square, a circle, a triangle and a line, then you can do it too. All you need is a steady hand and some patience. And a little practice helps too. I call it drawing for those who can't really draw. What's important again, is finding that outlet and enjoying the process without worrying about the outcome. Let go of the end product and just enjoy doing the activity and let your creative side express itself. You might surprise yourself with what you come up with. A frame also always makes everything look better.
I started this little venture back in November of 2009 with the purchase of a small amount of scrap glass (thank Razz!). I was just emerging from a very difficult time in my life having recently been diagnosed with fibromyalgia and I was searching for something. I wasn't sure exactly what I was searching for but I knew I needed something more in my life to help me overcome the chronic pain and fatigue of my fibromyalgia. (For more information on living with an invisible illness, see Spoon Theory on
ButYouDon;tLookSick
.) That glass sat in the corner of my garage for several months, gathering dust, waiting patiently for me to come back to it.
In January I was finally ready to bring form and meaning to that little pile of glass. My first few pieces were...interesting. That's what my sister said - that they were "interesting." That's code for not so good. But I kept at it, experimenting with different kinds of wire, different wrapping techniques, different beads. It was during that experimentation phase that the metaphor of the SolCatcher came to me. I realized that while creating a SolCatcher, my fibro pain became very distant and far away and a sense of peace and serenity seemed to settle itself in my workshop. Hours would go by in the blink of an eye. I seem to have found an outlet for my creativity. I believe that we are all creative in some way, it is a matter of finding the right medium through which to express it. For me, it is wire and glass, pen and ink. What is it for you?
Since then, my skills have improved (at least I think they have) and my sister even said she liked them so that says something to me. (Thanks Jen!) In addition, I've added Zentangle (TM) tiles and other Zentangle (TM) inspired art to the site. You can custom order anything on the site whether it's a SolCatcher, a Zentangle tile, a Zentangle light switch plate or socket cover or even have me come to your house and Zentangle on your walls. We'll work out the pricing depending on the size of the job. Just email me and we'll get it started! While most of the items on the site cannot be reproduced exactly as each item truly is one of a kind, I can do my best to replicate anything that is posted but sold. However glass breaks uniquely each time and each tile is hand-drawn so again, it is unique. But if you see something that you like that says "SOLD", let me know and I'll do my best to recreate it.
If you have one of my pieces, please send me a picture of where it is in your home - I'd love to start a new page that features my work in their new homes. Since each piece is like a child, I love seeing them with their adopted families and it would help prospective customers envision one in their homes as well.
Thank you for visiting my site and looking at my work and an even bigger thank you if you decide to purchase one! Regardless of whether or not you buy one of my pieces I hope they at least inspire you to find the creative outlet that enables your soul to shine through in unique and wondrous ways.
Peace,
Leslie
PS - No, that's not my horse. He was a rental named Johnny-B-Good that I rode while in Belize in October, 2008. He's an ex-racehorse named Johnny-B-Good. As an amateur rider, I said please, Johnny be slow!
To read about some of my adventures in real life, visit my blog: www.leslielowdermilk.com. I don't post a lot so you don't have to worry about being inundated with posts. But when I post, it's usually about something fun and interesting (at least I think so) and there's usually interesting pictures to look at.
leslie@solcatchers.net
---